User Experience Inspiration Cards
A library full of methods, techniques and workshops to encourage, support and inspire you in your work.
Do you have a lack of creativity? Is there a need for more clarity? Sick and tired of all those boring meetings? Do you want to know how you can validate a design with your users?
Use these cards to inject fun, meaning, effective communication, validation, user research and lots more into your day to day activities as a UX Professional, Product Manager or any other role.
Goals:
Communicate
Design
Discover
Evangelize
Plan
Validate
2 x 2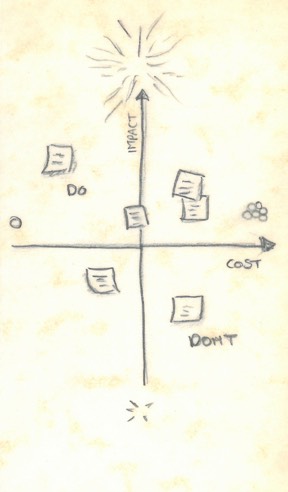 2014-11-08
List all features and plot them on the cost versus impact axes. It's a group activity with everyone out of their seats and talking about where they would place each feature.
Warning: Undefined variable $modals in /customers/e/4/3/clovissix.com/httpd.www/index.php on line 86 Fatal error: Uncaught Error: Undefined constant "length" in /customers/e/4/3/clovissix.com/httpd.www/index.php:110 Stack trace: #0 {main} thrown in /customers/e/4/3/clovissix.com/httpd.www/index.php on line 110